We started this year off with an open call to all music creatives to send in their work for the upcoming compilation album: Super-Sonic Family Vol. 2. You guys outdid yourselves! We received over 150 submissions and we were absolutely stunned. Narrowing it down to 12 tracks deemed impossible, so on November 16th we'll release the massive compilation album 'Super-Sonic Family Vol. 2' with a whopping 31 tracks! Over the next few months, we'll release these tunes in small bundles so you can get to know these amazing artists and songs. 
We've just released the second bundle with new tracks by none other than Dragonfruit ft. Kay Slice, Y.O.P.E., Counter Culture, Ben Penn and Bouba Dola & The Amazulu People. Scroll down to learn more about the artists and their work.
The Dutch Neo-Soul-Electronic-Pop-Quartet Dragonfruit was born out of a love for sample-hiphop and neo-soul. Drawing from the bouncy drums of hip-hop, the lush melodies of R&B and the energy of club bangers, the band puts itself on the forefront of the modern R&B landscape.
For their track 'Lose My Luck', they collaborated with hiphop kid Kay Slice.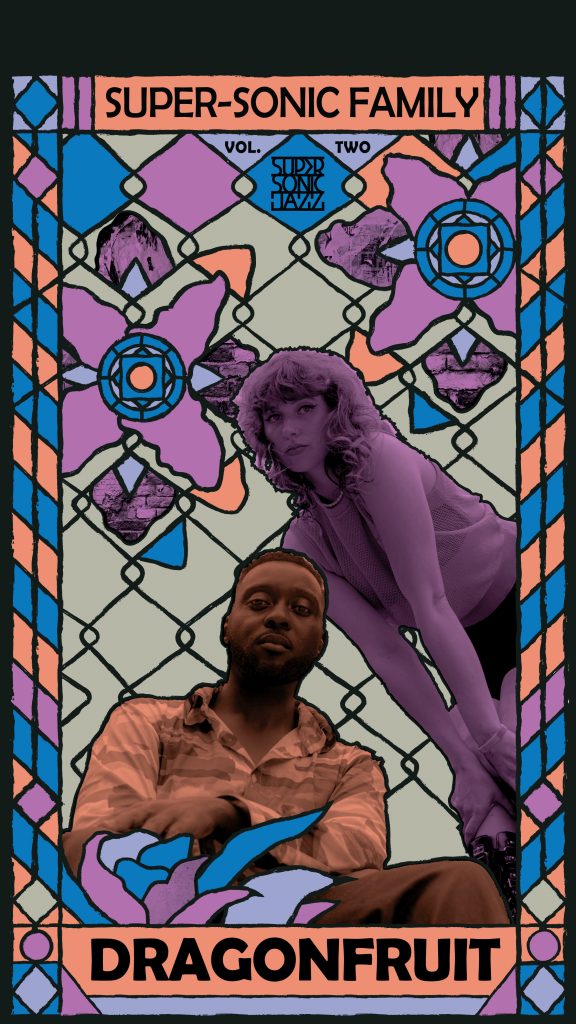 "Lose my luck is about the idea that you believe all the good you receive and lucky events that occur are due to a special someone in your life. A lover or friend crosses your path and things suddenly start to look brighter. It's not just love: this person is such a good person that the universe seems to have their back and being near them makes their light and luck spread onto you. It's superstition tipping over to obsession. You like the high they give you and you're scared that losing them will also mean losing your mojo, your succes, your luck."

Y.O.P.E. is the beat-music project of Amsterdam-based bass player Joop de Graaf. Earlier this year, Y.O.P.E. recorded his first album and one of the tracks was 'A Place To Go'. 'A Place To Go' refers to the previous EP of Y.O.P.E. 'Lost But Here'. The track is about why people do the things they do, the good and the bad.
"As humans, we often do not understand other people's choices, especially the 'bad' choices. If we were to place ourselves in other people's shoes, we would be able to understand where that person is coming from."- Joop de Graaf.
The Question: "Hi COUNTER CUTURE, It's a bit hard to find you on socials."
The Answer: "Yes, we are called COUNTER CULTURE for a reason."
This group has existed since the previous millennium, in various formations and under different names. After traversing the underground scenes and genres, the moment has arrived to shed light on all of their productions and live performances throughout the years, beginning with their track 'African Cool Down '89' for Super-Sonic Family Vol. 2. Starting with their track 'African Cool Down '89' for Super-Sonic Family Vol. 2. 

The main theme on 'African Cool Down '89' is a melody that has lingered since 1989, after punk had laid its head to rest and hiphop tried to stand upright. It's an easy melody that was once whistled during a bike ride through the city of Amsterdam. Three percussionists, a bass player, and a saxophone player have transformed it into an "close your eyes and listen" experience. The birds fly freely throughout the track, just as free as the congas and saxophone, whereas the bass is tied to the don't-try-this-at-home-bassline. 
You might know Ben Penn (aka artist, producer and dj Jeroen Opstelten) from the duo Leonard and Jeroen, as a dj at Red Light Radio, from his many club nights and festivals, his genre-transcending sets and his work for Young Marco's label Safe Trip. 
Jeroen likes the idea that he is just a tool for the music to create itself. He considers himself an amateur and a layman in the field of production and, in a way, prefers to keep it that way. This gives him tremendous freedom to produce innovatively, intuitive and cross genre. 

The track 'NOW' is a musical collage of genres, sounds, instruments and intentions. 'NOW' is one of the tracks from Ben Penn's upcoming album 'Everything' which is set to release in 2024. On this album, Jeroen does something entirely new: collaborating with musicians. He invited Kick Woudstra (drums) and in doing so, he manages to overcome his own limitations, lift his productions to a higher level and expand the possibilities within sound, timing, style and rhythm. The result? A eclectic album with jazz as its main influence.
Bouba Dola and the Amazulu Peoples
Bouba Dola is a multidimensional artist born in Kinshasa, Congo. From a very young age, he felt heavily inspired by Sun Ra, Alice Coltrane and Thelonious Monk.  Bouba channeled these influences into his own creative endeavors and he started an elaborate artistic journey, touching the realms of visual art, graffiti, music production and film. He is currently based in Rotterdam, where his love for jazz flourishes. His music takes listeners on an immersive journey, blending elements of jazz, hip-hop, and experimental sounds.

A poem written by Bouba Dola about the essence of the song 'Araya' (son).
he sun, a blazing son named Araya in the cosmic sky,
Radiant and fierce, upon the world's eye.
Born from the dawn, in celestial birth,
Araya brings warmth and light to our humble earth.
With his golden rays, like a loving embrace,
He nurtures life, in his radiant grace.
As a son to the universe, Araya does shine,
A beacon of hope in the grand design.
Just as a son named Araya brings joy and delight,
The sun banishes darkness, with its brilliant light.
In the vast expanse of the endless blue,
Araya, as a son, forever shines true.
So remember, as you gaze above,
Araya, the sun, like a son, is a symbol of love.
A constant presence, always there,
Guiding us with tender care.